FabriTac Self Adhesive Posters
Self Adhesive Poster - Easy To Apply, Easy To Remove - Just Like A Post-it® Note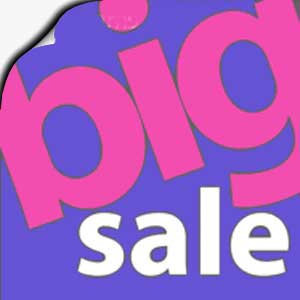 FabriTac self adhesive poster media has a unique re-positionable adhesive that can be re-applied time and again without leaving any sticky residue behind. This incredibly durable poster media will not rip or wrinkle and can be removed and re-positioned without damaging the host wall. The fine texture of this media delivers high quality images.
Fire Rating:  ASTM E 84 Class 1
Can be removed and re-positioned - FabriTac poster media is removable and repositionable and will stick to any non-porous surface such as walls, windows, doors or floors and can be easily applied to curved mounting surfaces. It can be re-positioned and will not peel the paint from a wall, nor will it damage wallpaper when placed over it.
Water resistant and suitable for outdoor applications - FabriTac's water resistant coating allows the media to be used on outdoor surfaces as it breathes well on contracting or expanding surface with no peeling or curling. Similar to many outdoor applications, it is important to note that the material will hold up against the elements, but when the inks are exposed to continued sun and rain, they can begin to fade. For outdoor applications, FabriTac will last up to a year.
Self Adhesive Posters
Enter your Poster Size in millimetres
1
Please enter the exact Poster Size in mm and the quantity you require.
2
Press Order Print to continue on to our secure payment facility.
After entering your payment details you will then be able to upload your graphic file.
Standard Delivery 2 to 3 day service.
You will be emailed a UPS, ParcelForce or Royal Mail Special Delivery tracking number to check your shipments progress.
There must be someone available to take receipt between anytime from 7.30am to 5.30pm. A signature will be required.
Damaged parcels must be signed for as damaged. A claim may not be valid without the appropriate identification being made on the proof of delivery; all queries must be reported to our Customer Service immediately on 0117 952 0105.
Free Printed Sample Pack of Poster Media
We have produced a Free Printed Sample Pack of all currently available poster print and custom wallpaper media. Each media sample has a full colour image for you to evaluate colour saturation and density.
Free Poster File Checking Service
Not sure if your file is suitable for printing to the poster size you want? Upload your file, enter poster size and we will send you free report by email that will highlight any issues that may affect the quality of your poster print.
Poster enquiries page for quantity discounts and quotations for custom poster sizes.
Poster artwork specifications for supported software applications to produce your poster graphics.
Poster FAQ page for helpful information on designing and producing your poster.
The posters have just arrived and everyone is really pleased, they look great - Lee Thomas, The Creative Co-op.