Backlit Posters – Lightbox Graphics
High Impact Backlit Display Graphics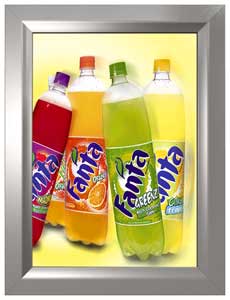 These brilliant high impact backlit posters offer high resolution photo realistic print quality, no matter what the application.
With exceptional fade resistance and outstanding colour accuracy the coating on the printable front side of this media enhances image definition and provides excellent colour contrast, even without backlight.
Backlit graphics are used in both indoor signage and outdoor promotional signage, in retail displays, in visitor centres, museums and hospitals, in trade show displays, reception areas and much more.
Backlit Display Graphic - Fade resistance (commercial window) is greater than 4 years, simulated in a light box. Interior in-window display ratings by HP Image Permanence Laboratory with predictions based on test data under Xenon-Arc illuminant calculation assumes 6000 Lux/12 hr day.
Backlit Display Posters
Enter your Poster Size in millimetres
1
Please enter the exact Poster Size in mm and the quantity you require.
2
Press Order Print to continue on to our secure payment facility.
After entering your payment details you will then be able to upload your graphic file.
Standard Delivery - (2 to 3 day service) You will be emailed a carrier Delivery tracking number to check your shipments progress..
The posters have just arrived and everyone is really pleased, they look great - Lee Thomas, The Creative Co-op
Free Printed Sample Pack of Poster Media
We have produced a Free Printed Sample Pack of all currently available poster print and custom wallpaper media. Each media sample has a full colour image for you to evaluate colour saturation and density.
Free Poster File Checking Service
Not sure if your file is suitable for printing to the poster size you want? Upload your file, enter poster size and we will send you free report by email that will highlight any issues that may affect the quality of your poster print.
Poster enquiries page for quantity discounts and quotations for custom poster sizes.
Poster artwork specifications for supported software applications to produce your poster graphics.
Poster FAQ page for helpful information on designing and producing your poster.