Easy Dot Window Graphics
Easy To Apply Window Graphics - highest colour brilliance and photorealistic print quality
Easy Dot is an easy way to apply window graphics, with practically no bubbles. Residue-free removal with environmentally friendly waterbased adhesive.
Great for all these applications:
Window graphics
Glass office partitions
Retail signage
POS displays
Trade show graphics
The key to its ease of installation is the special dot patterned adhesive which creates air channels that allow for a bubble and wrinkle free installation. No special tools are needed - not even a squeegee!
easy to apply - bubble free!
repositionable
no need for specialist personnel to install
residue-free removal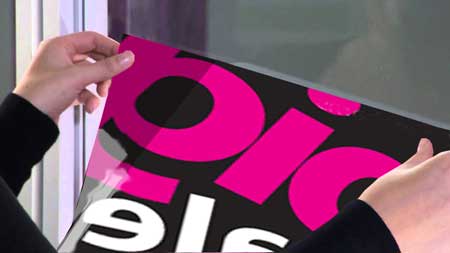 The adhesive can be on the graphic side of the poster, which means you can mount your poster on the inside of the window glass facing outwards.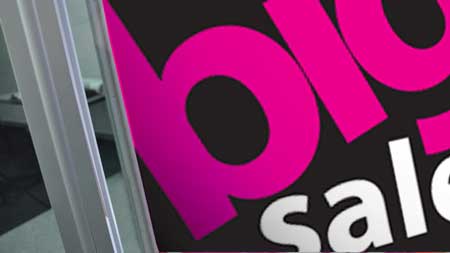 If you have struggled with vinyl applications, struggled with wrinkling or bubbles and spent time trying to get a smooth flat application, then Easy Dot Window Graphic is the answer.
Easy Dot Window Graphics
Enter your Graphic Size in millimetres
1
Please enter the exact Graphic Size in mm and the quantity you require.
2
Press Order Print to continue on to our secure payment facility.
After entering your payment details you will then be able to upload your graphic file.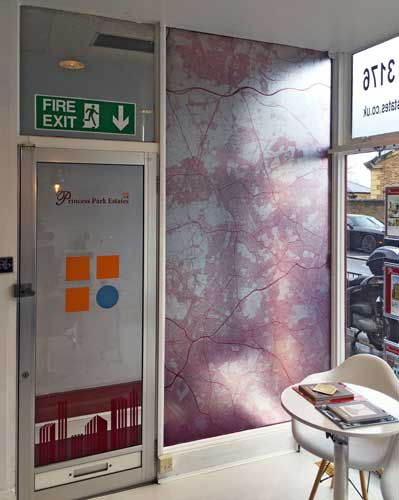 Standard Delivery - 2 to 3 Day Service
You will be emailed a UPS or Royal Mail Special Delivery tracking number to check your shipments progress.
There must be someone available to take receipt between anytime from 7.30am to 5.30pm. A signature will be required.
Damaged parcels must be signed for as damaged. A claim may not be valid without the appropriate identification being made on the proof of delivery; all queries must be reported to our Customer Service immediately on 0117 952 0105.
Reverse/ Mirror Printed Graphic
Check the box "Graphic To Be Reverse Printed" if your window poster will be on an inside window facing outwards.
Leave unchecked if your poster will be on an inside window facing inwards.
Free Printed Sample Pack of Poster Media
We have produced a Free Printed Sample Pack of all currently available poster print and custom wallpaper media. Each media sample has a full colour image for you to evaluate colour saturation and density.
Free Poster File Checking Service
Not sure if your file is suitable for printing to the poster size you want? Upload your file, enter poster size and we will send you free report by email that will highlight any issues that may affect the quality of your poster print.
Poster enquiries page for quantity discounts and quotations for custom poster sizes.
Poster artwork specifications for supported software applications to produce your poster graphics.
Poster FAQ page for helpful information on designing and producing your poster.