Pop Up Display Stands
Portable Pop Up Display - Lightweight & Easily Transportable
From only £799.00
Advantage Pop Up Stands are so popular because they are very tough and extremely well made.
If you are looking for a display system that can be easily transported and assembled by just one person and will give you many years of good service, then the Advantage Pop Up Stand is for you.
It will give your business or event the professional image at an affordable price.
One person can assemble a pop up stand in minutes and the transport case serves as a useful plinth.
The strong, lightweight, one-piece aluminium frame pops up in seconds to form a sturdy support to hang graphic panels on magnetic strips.
Once the presentation is over the pop up stand can be easily dismantled, stored in the transport case and then easily placed into the boot of a hatchback car.
Free Standing Tension Fabric Display Systems
Formulate Tension Fabric Display System - Add a whole new dimension to your exhibition or display with a seamless graphic back wall. Formulate combines an easy to assemble aluminum tube framework with state-of-the-art high quality tension fabric graphic imagery.
The one piece wrinkle resistant printed fabric panel stretches and fits snuggly around the frame to create a bold visual impact. The lightweight and portable frames can hold optional low voltage lighting and are supplied in a sturdy box for easy transportation. Comes with a lifetime hardware guarantee on all components.
Expand "One Piece" Fabric Pop Up Stand
The Expand Media Fabric Pop Up Stand is the quickest, the lightest and the easiest to put up. It beats all other pop up display systems weighing in at at just 6kg and expanding to 2.2m high x 2.2m wide for the 3x3 option. It is the best of all worlds for the solo exhibitor.
Thank you for your assistance with our pop up, it arrived today and looks totally amazing! - Colin Wynn, Managing Director, Administer Software
Twist Flexilink Banner System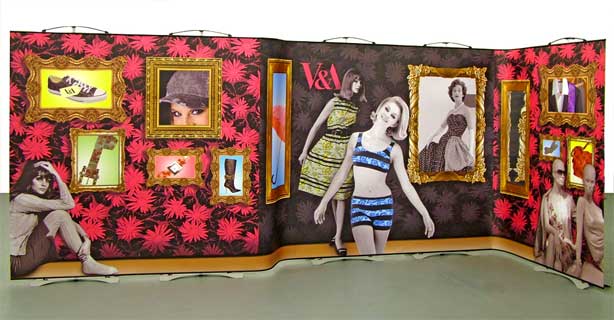 The Twist Flexi-Link Banner Stand System has been designed to allow the user to create and recreate virtually any shape required. An unlimited amount of Original Twist Banners can be linked with the Flexi-Link system, allowing you to create backdrops and displays with a seamless graphic appearance.
Twist Flexi-Link Banner System - from only £765.00
Artwork for Pop Up Stand Graphics
We normally produce your banner graphic directly from artwork you supply, see our artwork specifications for display graphics. If you are unable to supply your own artwork then just ask us to create the design or layout for you from either a detailed brief or using your own logo, text, pictures and background. Just decide what message or information you are planning to display, this could be in the form of a simple Word document or fax showing the desired layout, we will then produce a design for you to see and approve before producing your banner stand display graphic.
Design Briefs for Dummies - You've been asked to organise production of a display stand for a pending event that's been overlooked for a few months, then someone panicked because the show date is looming and parked it on your desk. You ask if the artwork is ready to send - but are greeted by silence and the vision of tumble weed spinning by.
Read More ... Design Briefs for Dummies
Resolution - Myths and Legends - People can sometimes confuse image resolution with print resolution and are unsure about the differences. So lets define resolution: Image files usually have their resolution expressed as pixels per inch - e.g. 300 ppi. Print resolution is usually expressed as dots per inch, that is so many dots per inch printed on paper or other print media - e.g. 300dpi.
Read More ... Resolution - Myths and Legends
Prices for banner stand artwork creation and proofing start from £30.00, we will do our best to ensure you get sound advice on achieving a great looking design to help you stand out at your next event. For more advice on how our design service can help you, just call Wayne Cullinane on (0117) 952 6069 or Ellie Bartlett on (0117) 952 6062.
Transit Cases and Carry Bags
A comprehensive range of exhibition carry bags, graphics cases and transit equipment designed to protect your valuable promotional and display items. The lightweight moulded plastic cases offer durability and strength.
More - Transit Cases and Carry Bags
Recyclable Pop Up Stands
| | |
| --- | --- |
| | Recyclable Aluminium - The hardware of our pop up stands is made from 100% recyclable aluminium. The recyclability of aluminium is unparalleled as recycling does not damage the metal's structure, aluminium can be recycled indefinitely and still be used to produce any product for which new aluminium could have been used |
Pop Up Stand Replacement Graphics
We can supply replacement pop up graphics for all of the following makes of display stands: