Banner Stands, Exhibition Stands and Portable Display Systems
Display Systems For Exhibition, Conference Or Promotional Events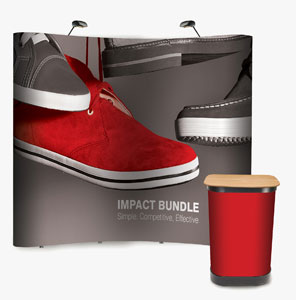 If you require a portable display for your next exhibition, conference or promotional event - one that can help set you apart from your competitors - then you can be assured of a reliable and high quality service from Redcliffe Imaging.
Even if your event is only days away, we can ensure your representative will not be left standing in an empty space!
Successful Exhibiting
Trade shows and exhibitions are a unique chance for potential customers to see, hear, touch and experience your product or service first hand, for the same cost of a colour page ad in a trade journal.
There exists no other way in which you can demonstrate your product or service to so many potential customers in such an effective environment.
Custom Wallpaper Printing
Bring an entire empty wall to life with custom printed wallpaper. All you need to make your own wall mural is a digital image. Just pick a wall, create your own design from scratch and easily install it when your wallpaper order arrives.
Custom wallpaper printing allows you to choose your own photos, images or designs for home, office and retail interiors.
Poster Printing Service
If you need a poster in a hurry then our short run, top quality, full colour digital poster printing service will ensure you get your message across on time. Ideal for conferences, trade shows, shops and offices.
Most poster print orders are despatched same day with a fast next working day delivery. There is no minimum order, order just 1 poster or 200 posters!