Folding Business Cards
The Folding Business Card - Make Your First Impression Count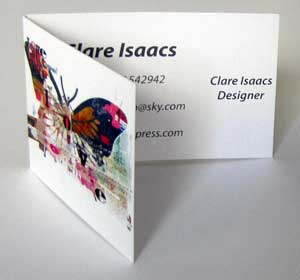 Like a business card, your Folding Business Card will tell people your name and provide potential customers with a way to contact you. It's the most cost effective way to market your business.
You can use your Folding Business Cards to hand out at your next event or exhibition, to keep in touch with previous customers and let them know, with a personalised message, about new products, services or upcoming trade exhibitions.
They are very effective, low cost and simple to use and one of the most effective networking tools you can find, and certainly one of the easiest to use. It will keep working for you hours, weeks and even years after it leaves your hands!
You can have a range of Folding Business Card with different images or messages on them. In addition to giving contact information to people you meet, you can direct them to your website, it will give others a taste of your products or services and start to implant impressions of your business. If you only have one chance to make a first impression, make it a good one!
| Price Per Set Of Cards | 48 | 96 | 144 | 192 |
| --- | --- | --- | --- | --- |
| Folding Business Card 85mm x 55mm | £24.99 | £47.98 | £67.50 | £95.96 |
Start Producing Your Folding Business Cards
Your card is printed on 350gms Smooth White Card
Your image printed on the front and back
Your name and contact details inside
Order your cards in sets of 48, 96, 144 or 192
Each set of cards comes with a handy card holder
Back and Front
Inside Text
Each card includes your image on the front of the card and thumbnail image on the back
with your name, telephone, email and website details on the inside