High Quality Window Poster Graphics
Bubble Free Hand Application of Face Mounted Posters to Windows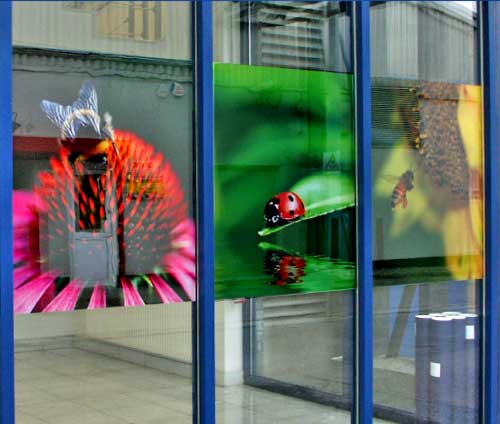 Mounting posters on the inside of window glass is now easy thanks to WindowTac™, with its removable and repositionable aqueous adhesive, which means you get no bubbles, no wrinkles and have no need for a wet application using a "soapy" concoction.
The adhesive is on the graphic side of the poster, which means you mount your poster on the inside of the window glass facing outwards.
The micro grooves in the removable adhesive allow easy air evacuation, which facilitates standard application using a squeegee or burnishing pad. The poster can be repositioned up to ten times without compromising the micro grooves.
The window poster graphics are printed on a high-performance, resilient 195gsm photo-realistic poster media, together with the assured easy, bubble free application of WindowTac™, with its clean removable adhesive, means no mess or disappointment - a perfect result evey time.
WindowTac™ Poster Graphics
Enter your Poster Size in millimetres
1
Please enter the exact Poster Size in mm and the quantity you require.
2
Press Order Print to continue on to our secure payment facility.
After entering your payment details you will then be able to upload your graphic file.
Standard Delivery - 2 to 3 Day Service
You will be emailed a UPS or Royal Mail Special Delivery tracking number to check your shipments progress.
There must be someone available to take receipt between anytime from 7.30am to 5.30pm. A signature will be required.
Damaged parcels must be signed for as damaged. A claim may not be valid without the appropriate identification being made on the proof of delivery; all queries must be reported to our Customer Service immediately on 0117 952 0105.
Reverse Mounted Graphic
Check the box "Graphic To Be Reverse Mounted" if your window poster will be on an inside window facing inwards.
Leave unchecked if your poster will be on an inside window facing outwards.

The GeoTrust® Secured Payment Facility will issue you with your Order Reference Number. Please make a note of your reference number and use it for any queries you may have with your print order. Your card will not be debited until your print order is ready to be despatched. Redcliffe Imaging is committed to protecting your privacy and maintaining the security of any personal information received from you.

We have produced a printed sample pack of all currently available poster print and custom wallpaper media. Each media sample has a full colour image for you to evaluate colour saturation and density. Click here for your Free Printed Sample Pack.
Free Poster File Checking Service
Not sure if your poster file is suitable for printing to the poster size you want? Click here to upload your poster file, state your desired poster size and poster media and we will send you free report by email that will highlight any issues that may effect the quality of your poster print.

Poster enquiries page for quantity discounts and quotations for custom poster sizes.

Poster artwork specifications for supported software applications to produce your poster graphics.

Poster FAQ page for helpful information on designing and producing your poster.
Directions for Use
Ensure windows are cleaned thoroughly with soap and water.
Remove embossed release liner and apply by hand with a squeegee, exerting minimum pressure.
The micro grooves incorporated into the adhesive layer allow air to evacuate during installation, assuring an easy, bubble-free installation.
The image can be repositioned up to ten times without compromising the micro grooves.
Allow the image to cure for 24 hours for optimum bonding.
The blue grid pattern embossed in the release liner transfers to the substrate, providing a visual reference for alignment.