Vario D400 Modular Pop Up Display System
A compact modular display alternative to the standard pop up stand.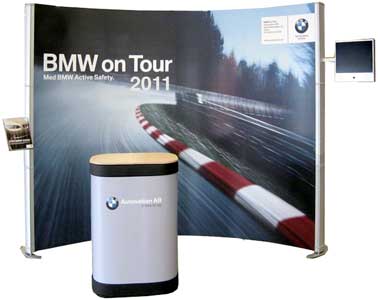 The feature filled anodised aluminium end caps allow you, the user, to add literature holders, multi-media players, digital TFT screens or product shelves, keeping your display fresh and innovative.
The aluminium side extrusion gives you a greater stability and lesser depth, the whole system is a mere 12 cms deep, which enhances its sleek looks. The frame and end caps are made of high grade aluminum, thus making it exceptionally strong, lightweight and fully recyclable.
The Vario D400 is the first truly modular pop up, making it the most versatile and adaptable on the market. Its anodised aluminium end caps make it different from every other pop up system allowing for accessories such as literature shelves, product shelves, bag holders, display panels and digital screens.
Compact for easy storage, lightweight, convenient and highly portable with its own wheeled transit case.

Literature shelves, product shelves and digital displays can be connected
Aluminium endcaps mean no need for fiddly graphic endcaps
All metal construction for strength and durability
Adjustable feet for uneven floors
All parts bagged and protected in a high quality transport case
Narrow system and footprint means modern and sleek appearance
Invisible hangers and kickers
Option for graphics to be displayed on both sides

Price includes full colour graphic panels, pop up structure and transit case
The scuff proof, full colour graphic panels are printed on high quality, aluminium lined, PVC stoplight and protected by scratch resistant deep crystal laminate.
....we assembled our stand this morning and it looks great - thanks very much to you and your colleagues for pulling everything together so quickly. Everything was very easy to assemble and we were very impressed with the quality of all the kit - Periscopix Pay per Click Campaign Management.