The Tension Fabric Display System allows the simple fitting and removal of tension fabric graphics. This also allows for safe and easy transportation of graphics, just fold up and pack away! Next time you use the graphic, the tension effectively irons out the creases by stretching it to fit the frame.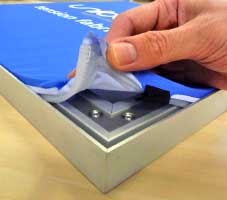 Frames are simple to assemble using just one tool, and the graphic is inserted into the frame by pushing the silicone strip into the channel of the extrusion.
Perfect for exhibition displays, showrooms, reception and foyer areas, roadshow events, museum graphics. In fact any interior (or exterior depending on fabric used), would be complimented by the inclusion of a Tension Fabric Display System.